FAQ - Frequently Asked Questions
What are Picture Validated ads?
Look for the icon on the ads to check that they are picture validated.
(and you can see this page again by clicking on the icon)
What is picture validation?
It's a system where admins/staff of RealEscort get 2 real picture of the advertiser, where we can be 99% certain it's the person in the picture. Every time an advertiser uploads pictures to their ad we will compare those to the validation picture, to make sure that they are the same! So users/customers on the site can be sure that if they book this person, they will meet the person in the picture, and not someone else!
Starting February 2019, we do not validate ads with pictures that do not look like the advertiser look in real life, In short, Picture validation is RealEscort toughest validation for making sure, you meet exactly the person you see on the picture validated ad, not older, not fatter, not different hair colors and so on.
Is picture verified a 100% guarantee that I will meet the person on the ad if I make a booking?
NO, there is no 100% guarantee. Our guarantee is only that the photos on the ad are real and represent how the advertiser looks now!
We can be 99% sure that they're not stolen model pictures of a known model!
And if the ad is fake, then this person was in on the con/cheating!
If you go to see a picture validated advertiser and it's not the person on the ad please
Contact us
and make a review on the ad, telling your story. If we get information and prof that it's a fake ad or not the same person we will delete the ad!
What's the best way to get a really good experience? what to look for?:
Look for picture validated ads! and ads that have recently been picture validated for your absolute best chance of meeting the same person, that looks the same as on the ad pictures.
And ads that have reviews activated on their ad, and have positive reviews from other users.
This is what we ask the advertisers to do if they want to be picture validated!:
1.
Take 2 real picture of yourself, taken today, in your underwear (Panties and TOP) or nude if you wish!
2.
Picture 1 must show all of your face and at least ½ of your body, see picture example 1.
Picture 2 must show all of your body and sign must be hold to the right or left side, see picture example 2.
(please take the 2 pictures in different location on your house/apartment/room, so 1 picture in 1 room and the next picture in a different room)
3.
The signature must be hand written and you must write the following on the paper.
I Love RealEscort
Date: xx-xx-xxxx
Ad Name: Your Ad Name
This is how picture validation pictures could look.
(image is an example, RealEscort Official model pictures we commissioned from advertiser "Andy Massage")
Example 1: Upper body and sign in front of hips.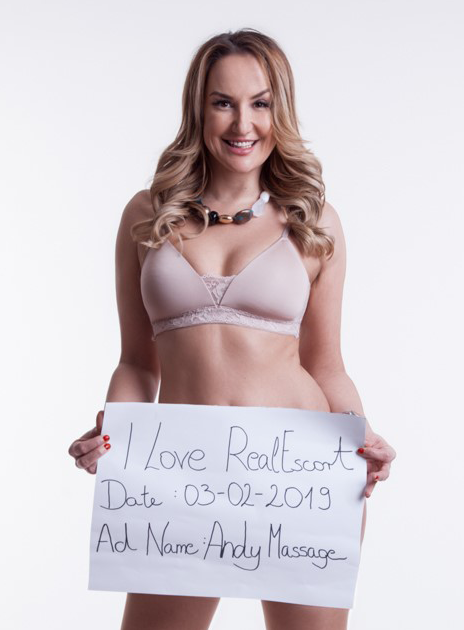 Example 2: Full body and sign hold to the left or to the right.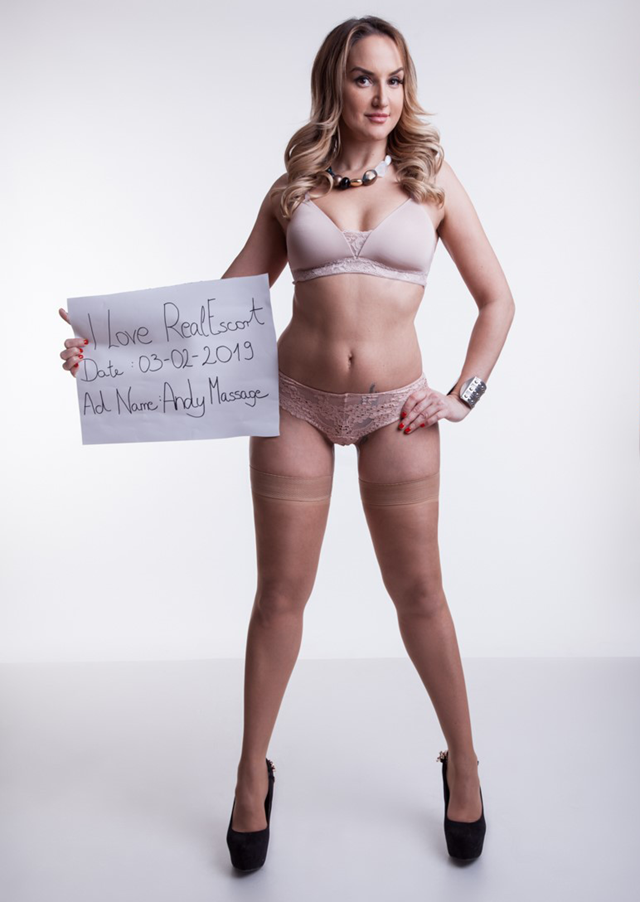 Picture validation facts:
Picture validation is valid for 90 days (3 month)
Only RealEscort admins/support will see the validation pictures!
The validation pictures will not be visible on the ad on the website.
If the advertiser tries to cheat in this process by modifying the picture in any photo editing programs (in any way!) or by uploading fake pictures to their ad after validation, WE WILL DELETE THE AD, NO WARNINGS!
Look for the icon on the ads, to know they are picture validated.
(and you can see this page again by clicking on the icon)
What if a massage or escort ad's photos are not Verified?
If a escort ad's photos are not verified it does not mean that the ad or pictures are fake.
It simply means the advertiser has not picture validated there ad.
---