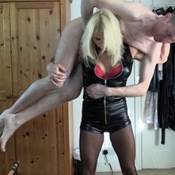 A gentle and painless form of domination and submission whereby one person lifts another.

The lifter lifts and carries the liftee in order to demonstrate his/her dominant position while the liftee is made to feel submissive due to their current helpless position in which they must depend on the lifter for support.

This can evoke arousal in both the lifter and the liftee, and the lifts may take on many forms including but not limited to cradle carries (in the arms like a baby), piggyback (on the back), frontal straddle (reverse piggyback), fireman's carries (across the shoulders), over the shoulder, sitting on shoulders, bearhug, side lifts, by the throat, overhead presses, bodyslams, torture racks (face-up fireman's carry), powerbombs (sitting on shoulders facing the opposite way), piledrivers (upside down lift), suplexes (lifted upside down high in the air), and variations of what's listed.