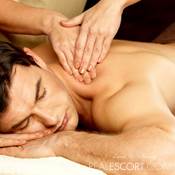 Swedish Massage Techniques
Swedish massage techniques include circular pressure applied by the hands and palms, firm kneading, percussion-like tapping, bending and stretching. Before and during your Swedish massage session, communication is encouraged with your professional massage therapist so that your massage is customized to your specific needs.

Possible benefits of Swedish massage:

Will calm your nervous system and promote a sense of relaxation and well being, reducing anxiety and tension in the body, which has been known to help relieve depression.

Improve blood circulation, which helps you feel more energetic by increasing the flow of nutrient-rich oxygen to the muscles in your body. Additionally, it stimulates the lymphatic system, which carries the body's waste products, meaning you'll process the good and the bad much quicker.

If you're experiencing muscle cramps and spasms, a Swedish massage with a focus on your problem areas can help relieve this pain. Massage therapy can also help with managing the pain from conditions such as arthritis and sciatica.


A study conducted by the National Center for Complementary and Alternative Medicine, and published in The New York Times, found that volunteers who received a 45-minute Swedish massage experienced significant decreases in levels of the stress hormone cortisol, as well as arginine vasopressin-a hormone that can lead to increases in cortisol.